TradingView Review: Fastest Way to Follow Markets
David Ramezani
How is one to stay on top of the markets? There seems to be so much information out there, so many strategies, charts, indicators, markets, etc. that it becomes mind-boggling to keep up with it all. TradingView was built to eliminate all the headaches of keeping up with so much information to maintain a successful portfolio of investments.
What is TradingView, how does it work, what are the features and benefits for users? Here is a detailed review of TradingView with answers to all of your questions.
What is TradingView?
A common problem that investors and traders come across is having to use multiple sources to gather information on the markets to make profitable investment decisions. In their own words, TradingView is "the fastest way to follow markets."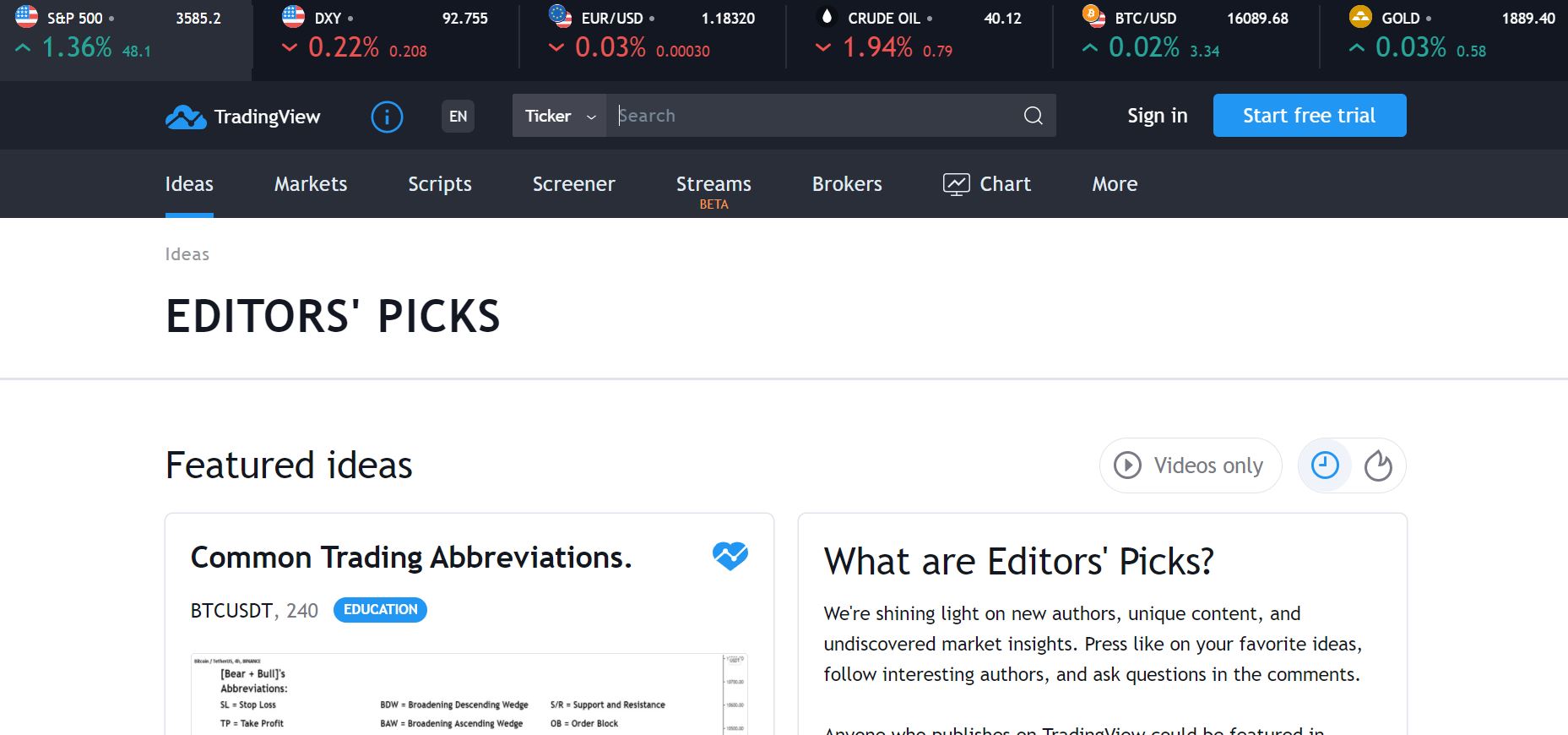 It is a platform for traders of all kinds to do both fundamental and technical analysis of investing in different markets such as stocks, bonds, currencies (FOREX), commodities, futures, and even cryptocurrencies. Their platform connects to all the markets and provides you with detailed information to help you make informed trading decisions.
When setting up an account (both free and paid options are available, which we'll cover shortly), you can sync your brokerage account with TradingView to make real-time investment decisions. This allows you to analyze the markets and make quick trades as needed when time is of the essence.
TradingView Tools, Features & Benefits
Why would you want to use TradingView? Because they offer hundreds of tools, features, and benefits that make trading the markets a whole lot easier. In the end, you save time, money, and eliminate tedious processes that otherwise would be inevitable without the help of a robust platform like TradingView.
Tools & Features
Charts:
TradingView has some of the best HTML5 charts. They offer multiple chart types to get different views, timelines, layouts, etc. You can keep open up to 8 charts at a time per tab, so you can quickly compare different movements. Furthermore, you can even save your chart layouts for future reference. TradingView offers 12 different chart types to choose from.
Technical Analysis:
You get access to over 100+ prebuilt technical analysis indicators which allows you to customize your charts and alerts to your trading style.
Indicators range from volume indicators allowing you to see the most traded prices within a certain time period, pattern indicators, and even backtesting different trading strategies. Their community-powered technical analysis allows members to publish their scripts to the public library for other users to benefit from.
Alerts:
Anything from news alerts, economic events, pricing alerts, pattern alerts, etc. You can be sure that you are notified when opportunities arise and when potential risks are arising. You also get access to server-side alerts which allow you to know when certain securities drop below certain prices. The alerts come in visual pop-ups, audio signals, email notifications and even text messages.
Drawing Tools:
TradingView has over 50 smart drawing tools available to users on all plans whether free or paid.  This allows you to analyze and identify price patterns, indicators, and ratios to help identify potential price movements for profitable trades.
Comparisons
You can compare different instruments to other indexes and instruments giving you additional viewpoints.
Stock Screeners
With thousands of investments available, it can be difficult to identify the ones with the most potential. TradingView lets you filter all the available investments with their stock screener tool which has over 100+ fields to filter with. You can even set alerts within the stock screeners to notify you of new stocks that have recently met your screener criteria.
Paper Trading
Not comfortable yet with trading the markets? Paper trading allows you to practice trading with a simulated account to get you comfortable with trading different markets. You can use paper trading for practicing with stocks, futures, FX, or Bitcoin without having to risk your own money. This is also helpful when learning to use different technical indicators before putting them into practice with your real account.
Extensive Market Data
All free accounts give you direct access to basic data for stocks, futures and indices, forex, Bitcoin, and CFD's. For a premium price, you can get more data on prices, volume, and history for securities worldwide. There are over 50+ exchanges and data feeds that TradingView receives its data from making them the place to be for extensive market data and information.
Watch Lists
You can save as many watchlists as you want and group different investments accordingly. You can also import or export your watchlists to and from TradingView and other platforms.
Social Network
Should you wish to use this in your trading strategies, TradingView allows you to network socially with other traders on their platform. This means trading ideas, hot topics, exchanging info on indicators, strategies, opinions, etc.
Benefits
So, how does all these added features help you as a trader? Here are some of the main things that TradingView will do to help you become a more profitable trader.
View everything in one place
If you've been trading for a while, you probably know how much of a headache it can be to remember all of your sources of information each time you do a deep analysis on a company. Whether it's news, indicators, economic events, social media trends, or price changes, you can view it all in one location without having to rely on multiple sources that don't sync together.
Detailed Analysis
Data is your best friend as a trader, and the more accurate and detailed your data is, the better chance you have at making logical decisions for each trade. Rather than relying on a basic chart pattern and some possible news alerts, you can base your trading decisions on hundreds of data points further confirming whether to trade and/or how to enter a trade position.
Never Miss Opportunities & Avoid Mistakes
Not having everything synced together in one place makes it difficult to react quickly from events such as price alerts, patterns, news events, etc. TradingView makes you unload the worry of forgetting to check a trade by automating the process of alerting you upon certain events and market movements. Whether it's price alerts, pattern alerts, and even events that may pose a risk to your trade, you don't have to worry about remembering because TradeView will remind you automatically when these events occur.
Learn from Others
In order to become a profitable trader, you would be wise to learn from other traders who have a track record of success. The social media aspect of TradingView allows you to do just that, all within the same platform as your technical analysis, charts, alerts, news and more.
Stay in The Know
Last but not least, you can be sure you are up to date on the most important news and events when using TradingView because they will customize your news feed to your trading style, your watchlists and even to the types of investments you are trading.
Pricing Options
TradingView has four pricing plans available to customize the platform to your needs. They are Basic, Pro, Pro+, and Premium. Each costs slightly more and come with more benefits the higher the package is that you purchase.
Basic Package: FREE
This is designed for new traders and beginning investors who are still learning the ropes. You get access to charts, market data, screeners, drawing tools, technical indicators, 12 chart types, and even backtesting trade strategies.
Pro Package: $14.95/month or $155.40/year if paid annually
This package is designed for intermediate investors and comes with everything the basic package comes with, along with added charts, intervals, and trading indicators.
Pro+ Package: $29.95/month or $299.40/year if paid annually
The Pro+ Package is designed for traders who have more experience trading. It comes with everything that the Pro Package includes plus additional intraday technical analysis for day traders looking to take things a little bit more seriously.
Premium Package: $59.95/month or $599.40/year if paid annually
This is for advanced traders who want the most data and tools possible to ensure they don't miss a single opportunity. It comes with everything the pro package comes with plus additional indicators, chart layouts, server-side alerts, second based intervals, and double the data on charts.
Who Is TradingView Best Suited For?
As you can see, TradingView's platform is very customizable making it a great option for almost any trader out there. The truth is, if you are a technical analysis trader of stocks, bonds, currencies, cryptocurrencies, futures, or CFD's, then you will benefit from even the free plan.
To narrow things down even further, TradingView may be best suited for day traders, short term and even medium-term traders who use a swing trading strategy or momentum-based trading strategy. Perhaps the best thing about it is, you can test it for yourself to determine how useful it is to your style of trading and it's completely free, or just a few bucks for a premium package with the ability to cancel or downgrade at any time.