Trade Ideas Review: Is Trade Ideas the Best Stock Scanner?
David Ramezani
What if you could create a technology where you input data into an algorithm such as data about certain market movements, and ultimately detect trades that have high-profit potential? Well, with technology today that can certainly be done, and Trade Ideas is one of the market leaders. This is often referred to as Artificial Intelligence (AI) technology and is helping investors and traders make more informed trade decisions. In this trade-ideas review, we will explain the main features of the trade ideas software, show you some example trades, and give you our unbiased overall assessment of the platform. In the end, we will compare trade ideas with other stock scanners and list the cons and pros of each platform.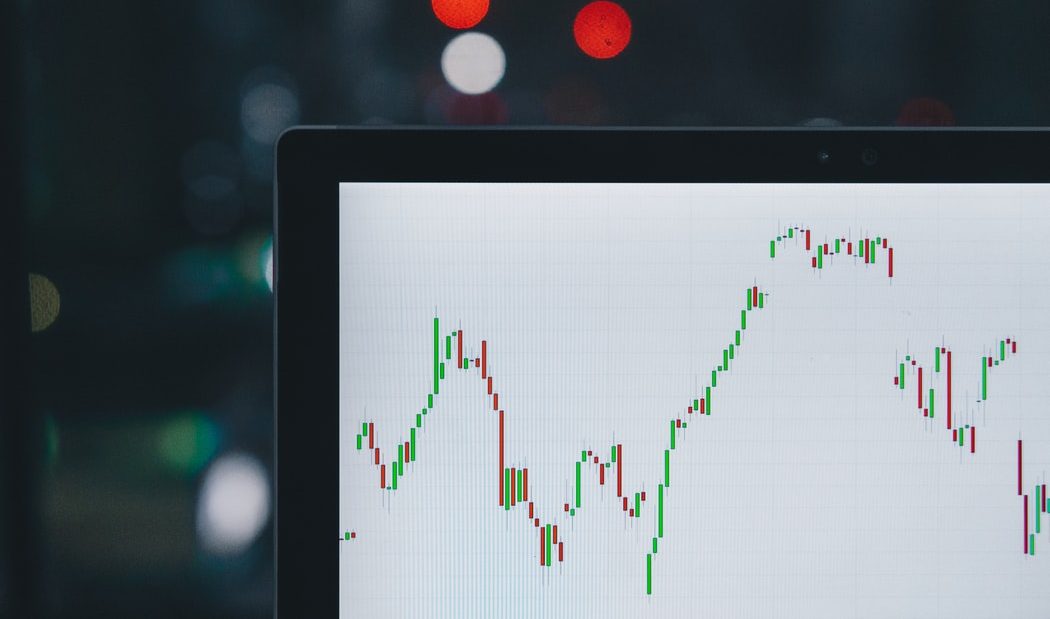 Overview
There is a saying in the trading community, "you are only as good as the stocks that you trade". If the stocks that you pick do not move, or if they do not have enough volume, you cannot make money consistently. With thousands of stocks to choose from, finding the best stock to trade can get overwhelming fast. Fortunately, stock scanners can help you find stocks that suit your strategies. But which stock scanner should you use? In my 15 years in the trading career, I have used many stock scanners including trade-ideas, Finviz, Benzinga, and Stockstotrade. All of these scanners offer unique features and are designed for different end-users. In this trade ideas review, I will give you my unbiased review of the trade ideas platform so you can decide if this stock scanner is right for you.
What is Trade Ideas?
Trade Ideas stock scanner is an Artificial Intelligence technology platform that allows investors to find different technical analysis patterns of the stock market. Trade Ideas was created with active day traders in mind. The scanner is well known in the trading community for its endless features such as stock alerts, backtests, free trading chatroom, and prominence among well-known day traders. Trade-Ideas.com has been around the trading industry since 2003 and provides technology to help traders outperform the stock market average returns. They provide a community of traders who can collaborate on different trading techniques, including a dedicated trading room to view real-time trades and strategies.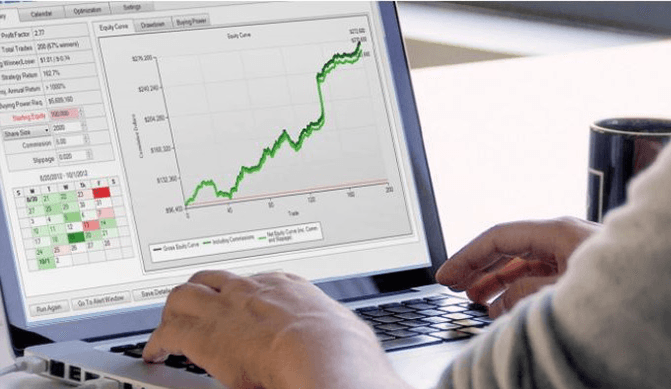 Their technology products help traders detect different trading patterns and alert investors accordingly, allowing them to make timely trades for better profits. If you are a technical analysis trader, you will love trade-ideas. Technical analysis refers to different movements of the stock market or of a particular company, price changes, and statistics on how likely investments are to move.
Unlike other stock scanners, trade ideas is equipped with a cloud-based artificial intelligence engine that scans thousands of stocks every day. The scanner then uses machine learning algorithms and historical data to generate winning strategies every trading day. And the best part – trade ideas can automate trading through your brokerage account. In the fully automated mode, trade ideas can execute all aspects of trading, while in the semi-automated mode, the user can review trades before they are executed.
Review of Trade Ideas Features
The different components of Trade Ideas AI platform include things such as:
Brokerage Plus: this allows you to identify and create market scans to discover different trading opportunities. These strategies can even be automated through an Interactive Brokers account.
Odds Maker Window: The market is always moving, and that means your potential profits and losses are too. The Odds Maker Window allows you to see real-time backtesting based on market events. You can then score how well different signals, scans, and trading plans are expected to perform. Oddsmaker is an add-on backtesting feature of the Trade-ideas Pro platform. Imagine you are developing a strategy to trade stocks that have gapped down by a certain percentage at open. You can test the performance of this strategy over the past 30 days with the oddsmaker tool. The simulation results will show you a visual summary of how your starting equity, share size, and slippage would impact your trade. Additionally, you can optimize your strategy by adjusting various parameters such as the price of stocks, volume, and the strategy trigger time (e.g. triggered 2 minutes after open). This feature is available as a 10-day free trial to all subscriptions. After the free trial, the Oddsmaker can be purchased for a one-time fee of $1,100.
Alert Windows: This allows you to add data-driven columns to your trading window and see events roll out in real-time. You can even see multiple time frames at once as shown on the detailed graph of the Alert Window.
Top List Windows: These windows allow you to organize your data into different categories with color assisted sorting. It allows you to rank different market data based on your investment strategy.
Compare Count Windows: This allows you to compare different investment strategies in a visual chart. You can get real-time updates to see how different events affect different investing strategies.
Holly, The Investment Discovery Engine: Holly is the A.I. behind the discovery engine of the market data. Holly analyses the stock market every day after the market close to detect different signals and patterns of how the market moved that day. Holly then organizes the data in such a way to design different strategies that are built in such a way to beat the market. These strategies are also broken down so that you only see the ones with success rates above 60% and a 2:1 profit loss ratio.
Furthermore, Trade-Ideas AI Stock Scanner has three different versions of Holly each built with different risk tolerances to fit your comfort.
OddsMaker: OddsMaker is another tool included with Trade Ideas Stock Scanner that allows you to backtest the market in nearly any time frame with unlimited backtesting availability.
Trade Ideas A.I. System Performance
To get an idea of how Holly, the A.I. system behind trade ideas stock scanner, performs, they have included real results to compare to major market indices including the S&P 500, the Dow Jones Industrial Average, the NASDAQ Comp. index and the Russell 2000 index for the year of 2018. The results were:
S&P 500: – 4%
Dow Jones Industrial Average: – 6%
NASDAQ Composite: – 4%
Russell 2000: – 8%
Trade Ideas A.I. System, Holly: + 32%
Trade Ideas A.I. Fees
Trade Ideas offers two different plans that have different benefits for each, a Premium Plan and a Standard Plan.
Premium Plan: If paid annually – $6.20 / day, if paid monthly – $7.50 / day
Standard Plan: If paid annually – $2.90 / day, if paid monthly – $3.90 / day
Each plan includes all the following benefits:
Streaming Trade Ideas
Simulated trading
10 Chart windows
Visual trade assistant with charts
500 Price Alerts
Channel bar
One-click trading with participating brokers
Live trading room
If you choose the Standard Plan, you get all the above-listed benefits along with the following additional benefits:
20 Chart windows simultaneously
I. Virtual trading analyst (aka Holly, as described above)
Entry and exit signals
Risk assessment analysis
Chart based A.I. trade assistance
Build ideas and backtest ideas
Automatic trades with Interactive Brokers
Many may initially think the price of Trade Ideas A.I. platform may be a bit steep but considering the returns they provide, it can easily pay for itself over time.
Possible Con's of using Trade Ideas A.I.
Although few, there are a few areas that may be considered a negative mark to some. They are:
Expensive subscription, particularly for those who haven't used a stock scanner before
As of this writing, Trade Ideas A.I. does not have a mobile app
The trades made are generated through Trade Ideas platform, but the actual trades are placed through your linked brokerage account, potentially causing a time lag and redundant tasks
If you're not familiar with stock scanners, it may take some time to learn the software and the ins and outs of how it works before making profitable trades
More than anything, these are things to keep in mind when deciding whether to use Trade Ideas stock scanner or not. They are almost certainly universal through most stock scanners available on the market today, however.
Why Use A Stock Scanner to Trade?
When deciding whether to use Trade Ideas or not as a profitable tool for your active trading, it's helpful to understand why to use a stock scanner in the first place. It's not just about detecting trades, but it's about automating, aligning your trading strategy, building a routine systematic approach and ultimately to provide you with profitable returns!
Automation
Trading every day can be a tedious and redundant task. Profitability takes consistency, day in and day out. Using a Stock Scanner to help smooth your trading strategy takes a lot of the redundant work out of the game and automates common tasks that would otherwise take hours to do. The best thing is, the Stock Scanner never misses a beat or gets tired!
Align Trading with Your Strategy
Sure, good traders have a proven trading strategy. But how often do you think that trading strategy is being followed each and every day? It is natural human behavior to miss signals, allow your emotions to get involved in trading decisions, and make bad trades resulting in major losses. Trading with a stock scanner like Trade Ideas lets you program the scanner to meet your trading strategy and all you have to do is say "yay or nay" to toe generated signals.
A Systematic Approach
Much like a search engine can filter your results down to the relevant few answers, so does a stock scanner. This allows you to always implement a systematic approach. Having a systematic approach further allows you to create a system or strategy, then monitor that system itself as things play out (rather than spending time actually transacting with the system). The result? An ever-improving trading system that operates profitably over time.
Profitable Returns
Last but not least, the ultimate objective of trading in the first place is to make a profit! Some of the most profitable and successful traders of today are known for their intelligence using trading algorithms to detect market movements. Consider Ray Dalio, for example. He is the founder of Bridgewater Capital who is an investment management company for wealthy individuals.
Ray Dalio discusses how he used Artificial Intelligence to build a successful trading strategy, which ultimately leads him to become one of the richest men in the world and found one of the most successful wealth management funds ever. Suffice it to say that using trusted stock scanners like Trade Ideas A.I. platform has major benefits when used correctly.
Trade Ideas Review – Final Thoughts
Trade Ideas has been around the investment industry since before the internet and A.I. technology was a trusted tool. Today, they have built a highly reputable stock scanner allowing many investors to earn higher trading profits. Among the benefits of using Trade Ideas A.I. platform are:
Detailed trading graphs and tools
Automated trading signals
Holly, the engine behind the detailed market search engine
Different levels of Holly to meet different risk tolerances
The ability to perform trades on autopilot based on your input trading signals
You can practice your trades using their simulated trading platform before taking it live
Live trading room and network of active traders to help generate trade ideas and learn new trade strategies
Additional trading suggestions for options traders and cryptocurrency traders
If you're an active market trader looking for additional tools to increase your profits, you'd be in good hands to test out Trade Ideas A.I. platform with its market-leading robust tools and A.I. stock scanner.