Tastyworks Review: Best Broker for Active Options Traders in 2021
David Ramezani
Are you a do-it-yourself investor? Then you're just like the founders of Tastyworks. The problem most people find is that investing without the proper tools can be a hard "do-it-yourself" endeavor. In fact, that's what sets Tastyworks apart from the rest. They provide a platform for investors with robust tools and technology to maximize your options trades, as well as other common investment transactions.
Their advanced technology allows you to get detailed insights on your options trades like curve analysis, quick roll for rolling options positions to the next expiration cycle, and even quick order adjustment options. Here is a detailed Tastyworks Review that outlines the in's and outs of their modern investment platform.
What is Tastyworks?
Tastyworks is an online brokerage platform that caters to options traders. It is a sister company to a popular online trading network, Tastytrade, and provides options traders the most modern forms of technology, great rates, and second to none support to give options traders the best edge on making successful trades.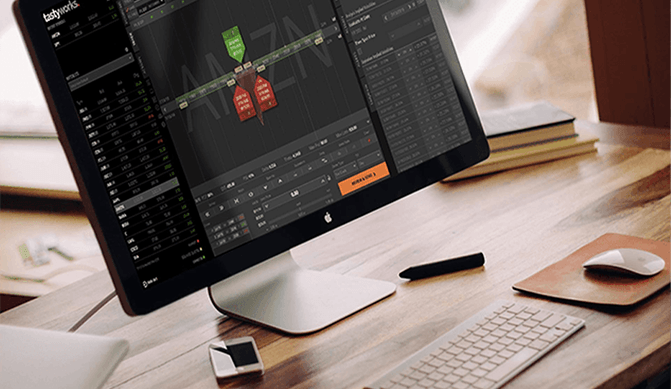 The founders of Tastyworks are Scott Sheridan, Kristi Ross, Linwood Ma, and Tom Sosnoff; all of which have credible backgrounds in successful investment ventures and industry influencers.
Scott Sheridan is the current CEO of Tastyworks and was a former co-founder of the trading platform Thinkorswim.
Kristi Ross an executive of Tastyworks and is the current Co-CEO of Tastytrade and former CFO of Thinkorswim.
Linwood Ma serves as an executive of Tastyworks and the current CTO of Tastytrade. He was also the CTO of Thinkorswim.
Tom Sosnoff is an executive of Tastyworks and also serves as the Co-CEO of Tastytrade. He was also a co-founder of Thinkorswim. Tom also served as a Chicago Board Options Exchange (CBOE) floor trader bringing years of experience in options trading to Tastyworks.
The four executive founders of Tastyworks also serve as personalities on the Tastytrade network, providing daily insights Monday – Friday with live trading broadcasts and market opinions and recommendations.
With that said, suffice it to say that Tastyworks has a powerhouse executive team that knows exactly what successful options traders need, and they deliver on providing those needs to options traders through their market-leading platform, Tastyworks.
Tastyworks: Designed for Active Options Traders
Is Tastyworks just another investment broker? Simply put, no. Although they offer common investment options such as buying and selling individual stocks and ETF's, the platform is designed specifically for active options and futures contracts traders. Options traders often need access to additional technology tools to make informed decisions on different options contracts. Before Tastyworks, there wasn't a viable solution that provided the info needed at competitive prices. Now, options traders have a professionally backed platform that gives them that extra edge for successful options trades.
Tastyworks Commissions and Fees
Tastyworks commissions and fees are simple and market competitive. Most brokers have opening and closing commissions for options and futures, whereas Tastyworks charges just an opening fee per contract. Here is a detailed layout of Tastyworks commissions:
Stock Options Contracts: $1.00 opening commission per contract ($10 max) and $0 closing commissions.
Futures Options Contracts: $2.50 opening commission per contract and $0 closing commissions.
Stocks & ETF purchases: $0 commissions on stock and ETF purchases
Futures Contracts: $1.25 opening commission per contract and $1.25 closing commissions per contract.
Futures e-Micros: $0.85 opening commission per contract and $0.85 closing commissions per contract.
How do these commissions compare to other brokerages that offer options and futures contracts? Here's a quick comparison of Tastyworks to a few popular trading platforms for 50 Puts/Calls or 100 total contracts:
E-Trade: $65
Fidelity: $65
Interactive brokers $70
Charles Schwab: $65
TD Ameritrade: $65
Tastyworks: $20
Tastyworks is more than three times cheaper than almost any other broker that offers options and futures contracts as an investment. Which would you prefer?
Tastyworks Range of Offerings
Why should you use Tastyworks as options or futures trader? Aside from their market-beating competitive prices, their world-class customer service, and access to learn from the executive founders themselves, here are some of the benefits of using their platform:
Stock Screeners: Filter your search for stocks to companies of a specific size, PE ratio, earnings growth, year over year performance, and more.
ETF Screeners: Choose ETFs filtering down to specific industries, prices, performance, etc.
Options Screener: Filter the options down to the select few that fit your desired criteria.
Derivative Focused Calculators: Calculators that help forecast the probability of different trades being successful.
Idea Generator: As a Tastyworks customer, you can also view live broadcasts of the executive team's trading recommendations, with the option to duplicate their trades as they are happening. This is also referred to as copy-trading and allows traders to test new concepts and put the trust in the hands of the experts who have "walked the walk." You also get access to Tastytrade watchlists and recommendations, as well as high volume trades within the last hour or day.
Detailed Charts: Analyze different investments from different time frames and different chart types.
Portfolio Statistics / Analysis: Their platform allows you to see all the real-time statistics of a portfolio. These range from liquidity, to delta and theta, as well as the probability of profiting from a specific trade. Furthermore, Tastyworks allows you to connect other brokerage accounts to see all your assets in one location.
Educational Resources: Tastyworks sister company, Tastytrade, is included as a large library of resources from beginner to expert investing techniques and strategies. The education center includes videos from active traders and the executive teams, as well as detailed articles and educational pieces on different trading topics.
Tastyworks Trading Platforms
Tastyworks provides you with a robust trading platform for both desktop downloads, in browser and mobile app platforms. Each provides all the tools, resources, calculators and analysis tools to analyze each trade.
The platform was built to be one of the fastest and most reliable trading platforms with the top security measures. The platform is based on a "See it, click it, trade it" design that allows you to make each trade with confidence in your analysis.
The platform allows you to analyze your trades using popular charts like the curve analysis, which gives you the ability to set up your trades in advance on when to enter and when to exit, keeping your profit potential top of mind.
Their Quick Roll feature lets you conveniently roll options positions into the next expiration cycle with just a simple right-click of the mouse. Furthermore, you can set rolls to default to the next weekly or monthly cycle as desired.
It's not uncommon to need to modify your order as the market plays out. Tastyworks platform allows for quick modifications to orders through their "quick order adjustments" feature. By simply right-clicking your trade, you can select to make quick edits to your order as they play out, to ensure you adjust to market conditions and profit the most from your trades.
The platform also provides a live dedicated feed that includes real-time updates and insights on market movements from the active community of traders. Traders can use this as a source of inspiration hearing from other traders' profits and techniques that help you eliminate "traders block." The feed also provides live video feeds where you can watch other community traders as well.
Tastyworks Sign-up Promotions
New customers can take advantage of 100 new stocks completely free when setting up a new Tastyworks account. The stocks are randomly selected from a list of 11 different companies priced between $1 and $6. That means for opening an account, you can get at least $100 and up to $600 in stocks when you fund the account with $2,000. This promotion is valid at least until June 1, 2020.
Tastyworks Education
Tastyworks education gives you complete access to learning everything you need to know about Options and Futures contracts. Free courses that range from beginner-friendly options trading to detailed volatility courses.
Furthermore, the archive of Tastytrade's live broadcasts from their executive team and even active traders provide real-life examples on how to make profitable options and futures trades. Each course also provides additional quizzes and certificates of completion for proof of knowledge.
Summary
It's no wonder that Tastyworks has been ranked #1 by Investopedia for low costs and the best platform for options traders. It's also been ranked the #1 options and futures platform by Investors Business Daily, as well as the #1 in customer service, trade liability, site performance, trading education, and trade ideas.
They provide competitive rates for options and futures contracts and commission-free trading for individual stocks and ETFs. Their platform is accessible on desktop devices, through your web browser, and via any mobile device or tablet. They have world-class learning resources and a highly engaged network of active traders that provide you access to exclusive trading techniques and strategies.
The final cherry on top of the ice cream is that they will give you 100 free shares of stock for free just for opening your Tastyworks account and funding it with just $2,000. If you're an options trader or futures trader, Tastyworks is hands down the best platform available for making successful trades.
If ever you're interested in other online stock brokers, we've got you! Discover the 6 Best Online Stock Brokers For 2020 here.