Personal Capital Review: Spend Smarter and Save Better
David Ramezani
There are plenty of budgeting apps out there, each with their competitive advantage and catered to different people in different financial scenarios. Among the top budgeting and personal finance apps out, there is Personal Capital, a one-stop-shop for everything related to your finances.
Personal Capital offers free financial tools to help you spend smarter, save better, and plan for significant events. They also provide access to expert financial coaching, wealth management, and free educational resources to improve your financial literacy.
Do you want to set your budget on autopilot, get a better view of how your financial health is, and make sure you're paying the lowest fees possible for banks, loans, and credit cards? Personal Capital can do all of this for you and more. Here's a detailed review of Personal Capital.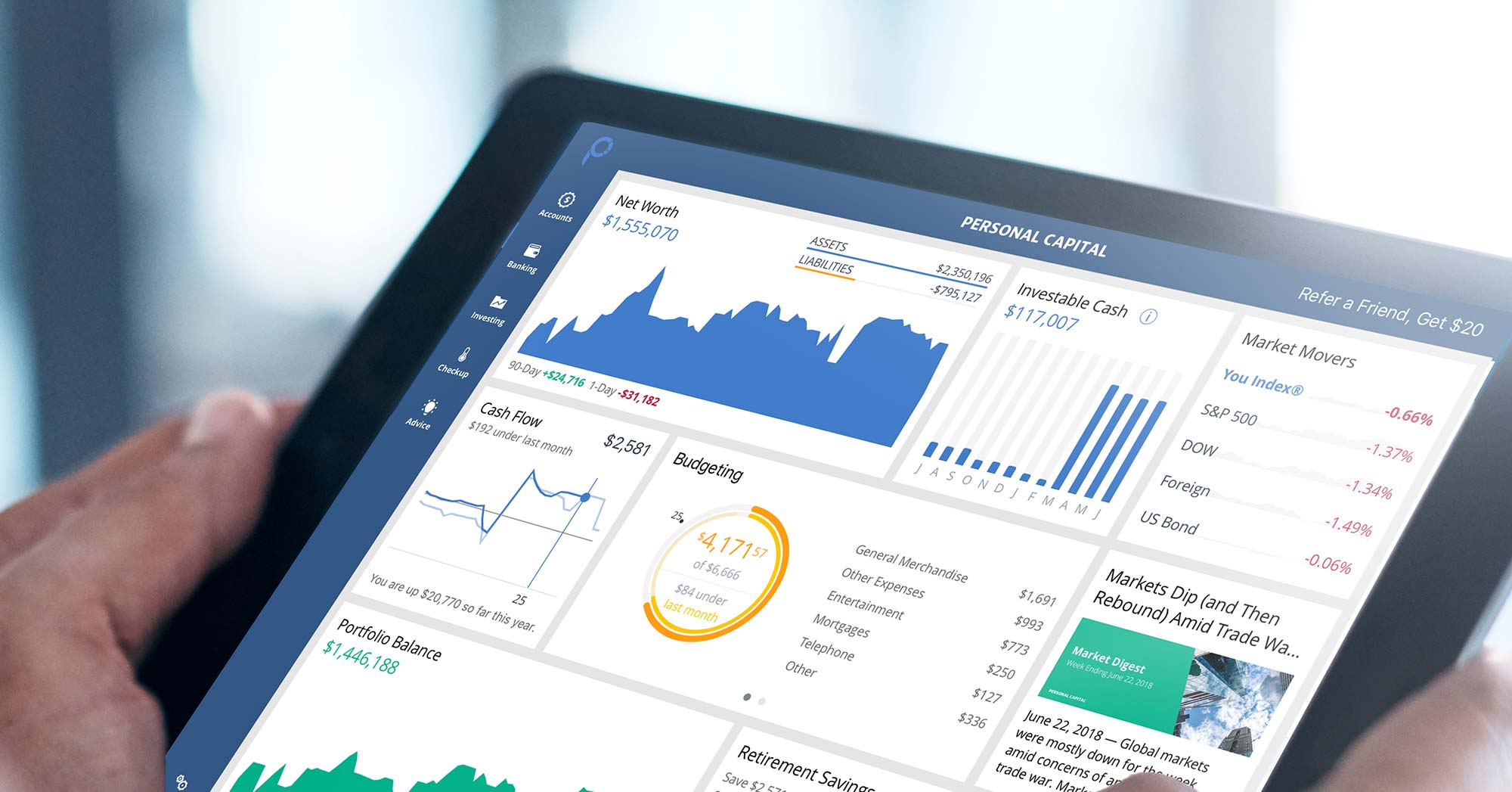 An Overview of Personal Capital
By linking your bank accounts to Personal Capital, you can get a detailed overview of how your financial health is. You'll be able to see spending patterns, areas where you may be able to save money, and detailed graphs of how your spending is trending. The visuals are especially helpful in giving you a different view of your financial health.
What's more, is their budgeting and planning tools are free to use and are second to none. All you have to do is open a free account, link your bank accounts, loans, credit cards, and investments to the app, then see your finances from every angle possible. Should you want access to expert financial planning help and wealth management support, Personal Capital has experts ready to serve at your request.
Features & Benefits of Personal Capital
In short, Personal Capital lets you see all your finances in one central location. Sure, most financial apps today have this feature to get a bird's eye view of how your money looks, but not with the details and visual aids like Personal Capital. Here's an overview of all the features and benefits Personal Capital has to offer.
Investment Intelligence Tools
Personal Capital tools have built-in algorithms to analyze your investment accounts and compare your investments to a recommended target allocation based on your risk tolerance. This is similar to how a Robo-advisor works.
Rather than building you a portfolio and investing for you, it lets you compare your current investments to an expert recommended portfolio so you can make adjustments as you see fit. You can also see your total portfolio with their respective holdings and compare that to significant market indices like the S&P 500 index, bond indices, and foreign stock indices.
The budgeting feature allows you to see where you're spending the most money. It breaks down all your spending patterns into different categories, such as:
Electronics
Entertainment
Restaurants
General Merchandise
Online Services
Gasoline/Fuel
Automotive
It will take your spending patterns and compare them to previous months to tell you whether you are above or below your current spending averages. The snapshot of all your spending is especially helpful to know where you spend most money so you can adjust your spending habits accordingly.
A retirement planner is a free tool that helps you check to see if you're on track for saving for retirement. It enables you to create a plan of the type of income you want during retirement, how much you have saved, what your investments might look like, and how much you need to save regularly to reach your retirement savings goal.
A cool feature in their projection tool is that you can see how close you are on track, with a rough estimate of your chances of meeting your retirement goal. If you need to save $5 million and you are on track, it may say you have an 80% chance that you'll meet your goal given current circumstances.
You can also run different scenarios to see how your plan might change with varying expectations of retirement. In short, the retirement planner is a versatile financial tool to make sure you reach your retirement goals.
Individuals find common problems when improving their finances is the fees they are paying for unwanted products or services. For example, you may be paying hidden fees on mutual funds or 401k funds that are hardly ever to notice (probably found deep in the fine print that no one reads).
Personal Capital's software has a fee analyzer tool that finds all the fees you pay for each financial account and investment product you own. For example, you may have paid a management fee to have your investments managed by a local firm, but you might have missed the fact that there is an additional administration fee included that you weren't aware of. Personal Capital will be able to see these fees.
Your net worth is perhaps the most crucial number to measure your progress. As your net worth increases, so does your overall wealth and ability to weather any financial storm. Personal Capital conveniently lets you calculate and track your total net worth – your total assets minus your total liabilities – so you can keep track of your progress.
Knowing your net worth helps you focus on the big picture and motivates you as you see progress and growth. It also enables you to realize the harmful effects of liabilities and debt.
What is cash flow? It's your total money coming in minus your total money going out each month. Positive cash flow means you're bringing in more money than you spend, and negative cash flow means your spending more than you're making.
You can calculate your personal cash flow numbers for the last 30 days with Personal Capital to be sure you're not going over budget and stay in a positive cash flow territory.
Wealth Management Resources
There comes a point when managing your money is too time-consuming to do with all your other work and family responsibilities. That's when you consider reaching out to a financial planner or wealth manager to help you track your money.
The great thing is, with Personal Capital's Wealth Management Resources, you can use all their free tools, and as you grow, you can start adding extra resources as needed, like a wealth manager. For a small annual fee, having a wealth manager will help you: optimize your money to lower your tax bills, help you rebalance your portfolio, implement dynamic portfolio allocation, and help diversify your portfolio to stay safe while making steady returns.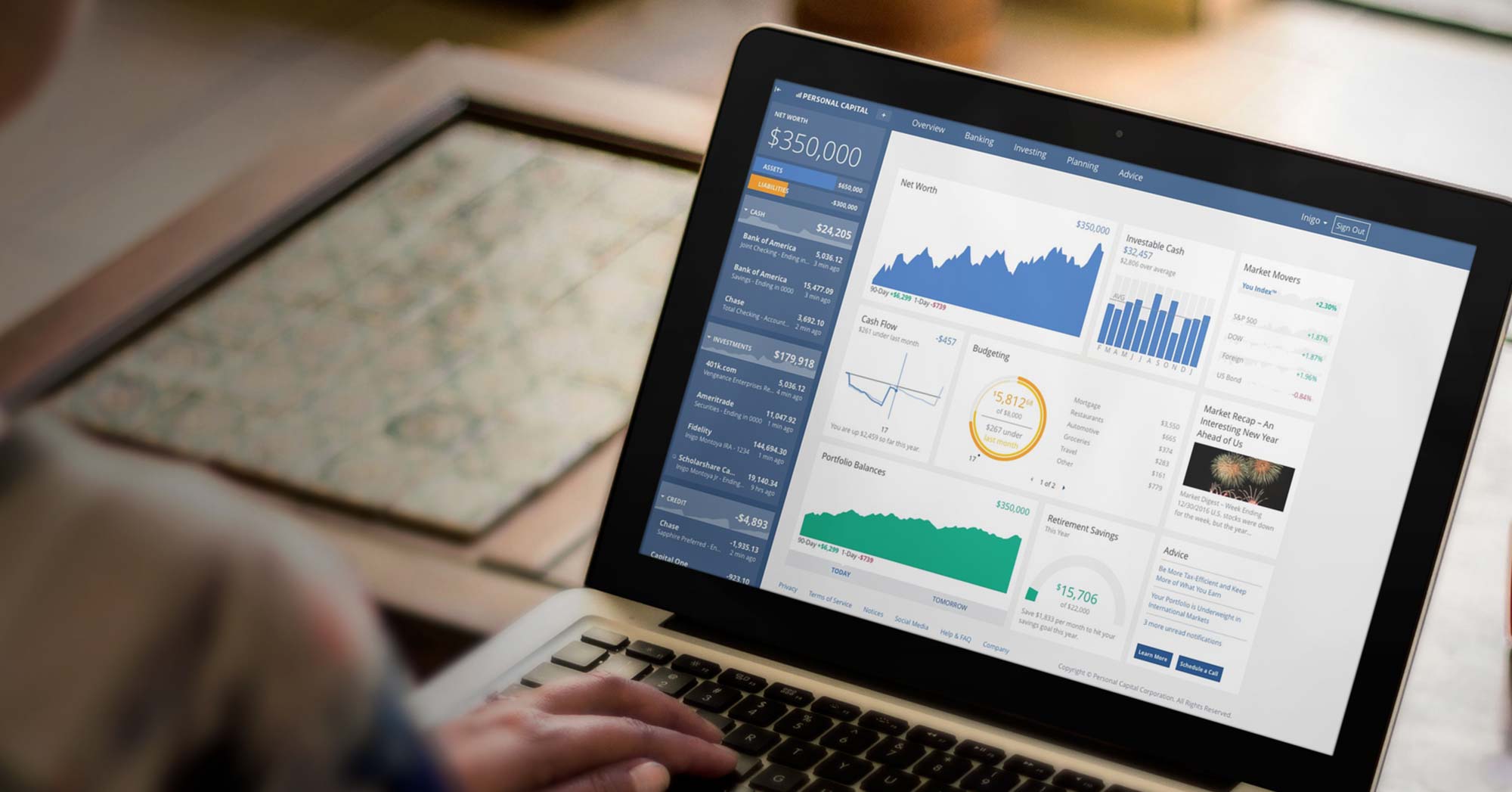 There are multiple wealth management tiers at Personal Capital. For individuals with $100,000 to $200,000 of investment assets, you would work with financial experts on the investment services team. For those who have $200,000 to $1 million of investment assets, you'll get a more personalized approach to managing your money working with their personalized wealth management team.
If you have over $1 million in investment assets, you will be eligible for more specialized management resources and a dedicated team with their Private Client group.
To make things even more convenient, Personal Capital provides access to a cash management account. The cash management account is like a checking account with similar features and benefits so that you can house all your money in one location.
You can set up joint accounts, process free wire transfers up to $1 million, set up direct deposit, link your personal checking accounts, unlimited transfers, daily withdraw limits of $100,000, and no minimum balances required!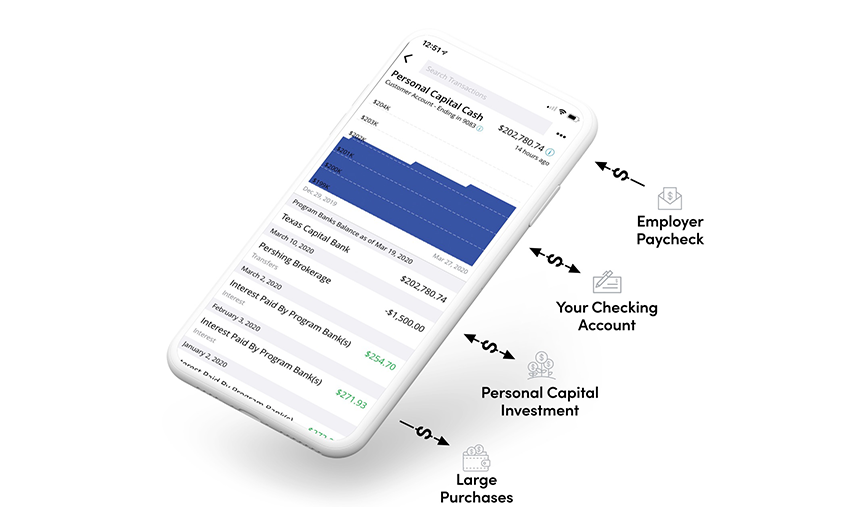 Where Personal Capital Falls Short
There are, however, a few minor issues that may cause people to reconsider using Personal Capital. Some of them include:
Debt tools: Personal Capital keeps track of your total debt based on all the accounts you have linked to Personal Capital, but it only provides balances and a graph to visualize how your progressing. It would be nice if Personal Capital had more tools to help you analyze your debt, find better solutions, and pay off your debt faster.
Budgeting tool is extremely basic: The budgeting tool within Personal Capital is about as basic as it gets with just your transactions allocated to different spending categories and whether you trend up or down compared to last months' spending. It would be nice if there were more goal-oriented tools and more in-depth analysis tools regarding creating a budget.
Personal Capital provides essential budgeting tools to see your money in visual graphs and detailed investment and retirement planning resources to ensure you are on track. It could use some work on getting more focused on budgeting and money basics as well.
Should You Use Personal Capital?
Personal Capital is a fantastic option for those who want to see all their finances in one location. You can analyze your money, catch unnoticed fees, see progress, and get visual with your money through graphs.
If your goal is to measure how you're spending your money and track your progress towards retirement goals, then Personal Capital is a top pick, no question. Furthermore, if you're looking for added guidance with your wealth management and retirement planning from industry experts while also wanting world-class resources to view your finances in one place, then Personal Capital provides a great option to do just that.