M1 Finance Review: Multiple Options on Investing
David Ramezani
Modern investment companies are making it easier every day for consumers to start investing in the stock market. Companies like M1 Finance have built a revolutionary investing platform that cuts investing fees, eliminates trade commissions, and allows investors to develop their own portfolio and invest automatically.
Is M1 Finance a trusted investing platform? Is it beginner-friendly? Does it provide helpful tools and resources to its users? These are common questions for those researching Robo-advisors today, and we'll discuss the answers to all of them in this detailed review of M1 Finance.
M1 Finance is an investing app that allows its users to invest in the stock market automatically. The technology provides investors access to multiple options on how they wish to invest in stocks. If you're new, they've got expert-created funds that you can use to diversify your portfolio. If you prefer to pick your own individual stocks to invest in, you can invest in any company with any dollar amount.
If you want to create your own fund, you can build a fund of your favorite companies, companies of a particular industry, or companies that support a movement you care about. What's more, is you can do all of this for free.
Available investments include almost any publicly-traded company listed on a major stock exchange, as well as thousands of popular exchange-traded-funds (ETFs) to choose from. Some funds will consist of bonds as well. However, investing in individual bonds directly is not an option at this point.
Other features offered by M1 Finance, which we will discuss in further detail below, are M1 Borrow, M1 Spend, and M1 Spend Plus. The overall platform makes it easier for people to invest, spend, save, and borrow money in a fraction of the time it takes to perform elsewhere.
Why would you use M1 Finance instead of other popular investing platforms such as Robinhood, SoFi, or popular Robo-advisors like Betterment or Ellevest?
The answer lies in the type of investor you are or wish to be. Some platforms offer great options for those who want to "set it and forget it" when it comes to investing. Other platforms are better for helping investors take advantage of the stock market without any effort or research. Then you have platforms like M1 Finance that provide resources for both active and passive investors alike.
Other reasons you might pick one company over another for investing are the tools each platform provides to help research companies. Other factors include tools to help educate yourself on the market, provide market updates and news events that may affect your portfolio, and make you an overall better investor.
Among the many features that M1 Finance offers, here are some of the unique features that make them stand out among other potential investment platform options.
What is automatic investing? It's setting up your portfolio upfront and setting the transfers and investments on autopilot on a given day of the week or month. Investors do this to eliminate the temptation to spend their money elsewhere, to lessen the work it takes to build a portfolio and to take advantage of dollar-cost-averaging. This technique helps lower your overall purchase prices over the long term.
Let's face it, when that new exciting product goes on sale, it's tempting to spend your discretionary income, even if it was initially budgeted to go to your investment portfolio. That's where M1 Finance comes in and helps out.
While this isn't a new or unique feature in the finance industry, it is an essential one that could make or break your decision to use their platform for investing.
Traditional investing required you to purchase shares of stock based on whole share amounts. If you wanted to buy a share of Amazon, you'd have to pay thousands to buy one share (as of this writing). What about investors who only have $25 to invest with and want to invest in the e-commerce giant?
With fractional shares, you can make investments based on dollar amounts rather than whole share amounts. In other words, you can invest $25 into Amazon regardless of its share price. You'll just own a fraction of a share rather than a whole share.
Fractional shares investing opens up the world of investing to anyone with some extra money that they want to save and grow for the long term, and M1 Finance is making this process even more accessible, combined with automated investing (discussed above).
One of the biggest reasons some people don't invest in individual stocks is that they don't know how to diversify their portfolio. It's almost as if by being able to create a fund of your own and investing in that fund just like you would with an ETF, makes it easier and more comforting that your money is automatically diversified among multiple companies.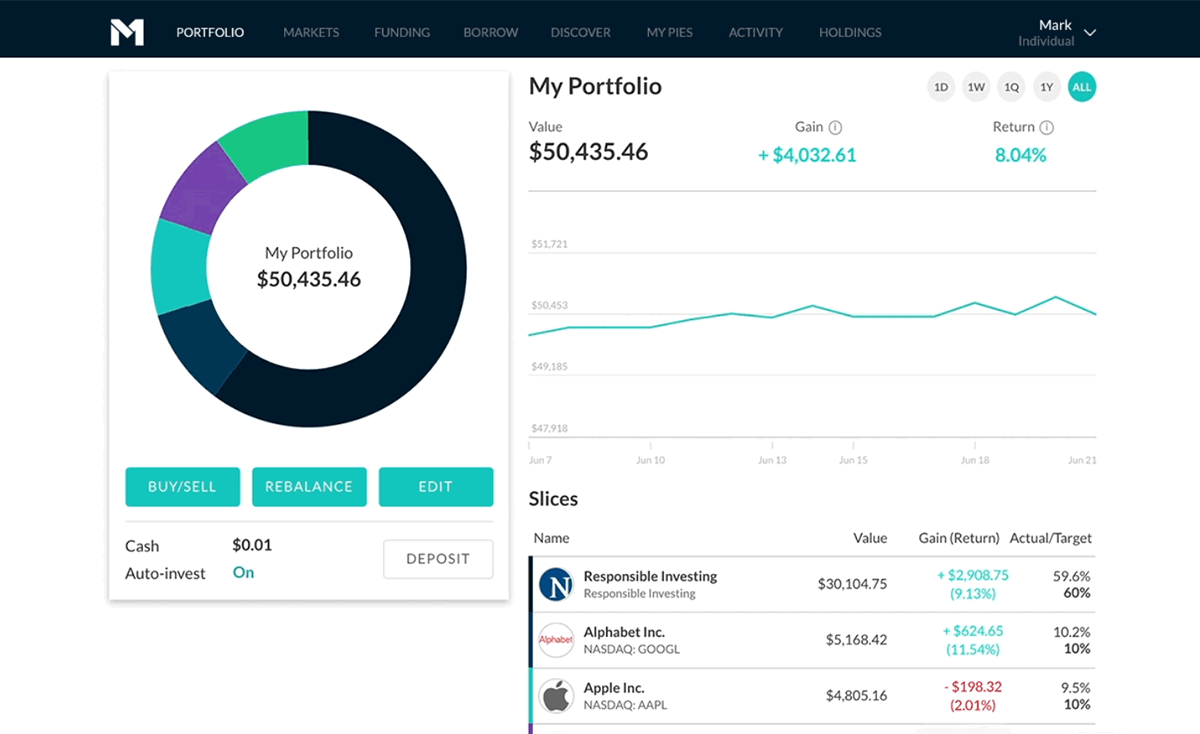 This is precisely what M1 Finance allows you to do. You can create your own portfolio, called a Pie, comprised of only your favorite companies. Your pie can even include other ETFs or other expertly made pies available through the platform.
Along with creating your own fund is the ability to select from other expert-created pies that you can choose from. You can use these as examples of what you want to include in your pie, you can include them in your pie, or you can invest in these already created pies without any effort on your part.
Another traditional aspect of investing is the commissions, balance requirements, and ongoing fees that old-fashioned brokerages would charge. Examples of standard investing fees include:
Trade commissions, often exceeding $9.99 per trade (buy or sell transactions)
Annual account fees
Management fees
Minimum account balance requirements and fees associated with not meeting these requirements
However, with M1 Finance, you eliminate all these fees at once. Perhaps the most significant fee that people will notice is the elimination of trade commissions. Imagine if you made 50 trades in a year, each costing you $10. That's a total of $500 in trade fees that otherwise could have been used to invest more in stocks.
M1 Finance charges no fees whatsoever when it comes to investing. Keep in mind that their other products like M1 Spend Plus and M1 Borrow may have different fees associated with them, but their investment accounts do not.
If you invest in an ETF through M1 Finance, that ETF may have their own fee that is charged annually no matter what platform you use, but it is not set by M1 Finance.
Dynamic Portfolio Rebalancing
When you build an investment portfolio with 10 different companies, each having 10% of the portfolio allocated to it, naturally, your allocation percentages will fluctuate to changing company prices. After six months, your allocation may have three companies at 5%, three companies at 15%, and four companies at 10% allocations. This merits the need to rebalance your portfolio to the original allocations. This is called a portfolio rebalancing.
Rebalancing can be tedious and require extra time managing your portfolio. With M1 Finance, they use Dynamic Rebalancing, a strategy that naturally keeps your investments balanced over time by putting newly deposited funds into the under-weighted companies first.
For example, if you have ten companies, each with 10% allocations, your portfolio will fluctuate over time. Perhaps, after a month, those allocations are now six companies at 10%, two companies at 12%, and two companies at 8%. Your next investment will automatically be applied to the two companies that are currently at 8% to bring them up to par with the rest of the portfolio.
This also helps investors follow the golden rule of "buying low and selling high" to achieve overall higher returns in the long term.
Aside from investing in the stock market, M1 Finance is unique in that they allow investors with account balances over $10,000 to borrow up to 35% of their portfolio with no credit check! If you need immediate access to $3,500 and your account balance is $10,000, you can withdraw that $3,500 without selling your investments. In other words, your investment account serves as collateral should you not be able to pay the money back.
M1 Spend is the checking account and debit card offered through the platform that serves as both a convenience factor and an additional way to earn more money on your purchases. M1 Spend has a basic version, which is simply a debit card account to make daily purchases, and M1 Spend, which is a debit card account that:
Offers unlimited 1% cashback on qualified purchases
Offers an annual interest rate of 1% on unused funds
Comes with a tungsten metal debit card
Reduces your loan interest rate for M1 Borrow by 1.5%
The M1 Spend Plus account costs $125 per year, meaning you'd need to spend at least $12,500 per year in purchases to break even, or a combination of purchases and average balances to make back that $125 fee per year in the interest rate benefits.
Who Should Use M1 Finance?
Who is M1 Finance best suited for? If you're looking to cut fees on investing, take advantage of automated investment services, build your own portfolio and have options for both expert funds and self-created funds, then M1 Finance is a top pick.
Furthermore, those who wish to have a simple finance account with borrowing, investing, and checking account options in one place will also benefit from M1 Finance.