6 Best Online Stock Brokers For 2020
David Ramezani
Stock brokers are getting more and more user friendly, more cost-effective and are even providing better technology tools and resources to make investing more profitable. What is one to look for in a good investment platform and what are the best places to begin investing? Here is a detailed overview of the 6 best online stock brokers for 2020, along with a few investment account features to look out for to ensure you pick the best broker for you.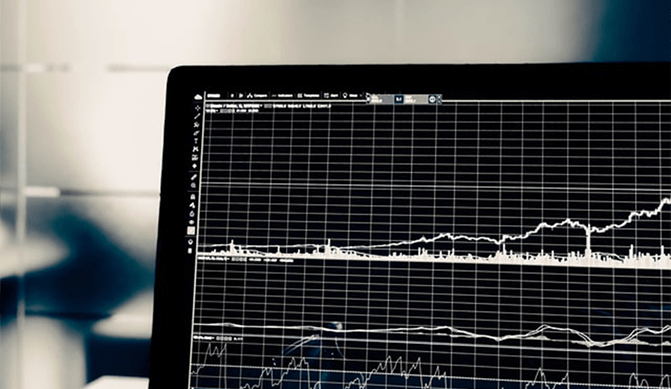 What to Look for In an Online Broker:
Understanding what features and benefits you want in an investment broker can be confusing with all the detailed "bells and whistles" offered these days. When all is said and done, keep in mind the following when selecting the right investment broker for you:
What is your ultimate objective for opening an investment account? Is it retirement, general investing, options trading, etc.?
What investments do you plan to invest in? (stocks, options, futures, bonds, mutual funds, ETFs, etc.)
How much money will you be investing?
What are the fees charged by each broker to compare your options?
Do you need access to in-depth reports and technology for your method of investing?
These questions and any others related will point you in the right direction to get started. Take a look at these 6 investment brokers to narrow down your options!
1. Tastyworks
Account Minimum: $0
Fees: $0 commissions on stock trades, and just $1 to open an options trade with $0 to close an options trade.
Investments: Stocks, Options, Futures, Margin Accounts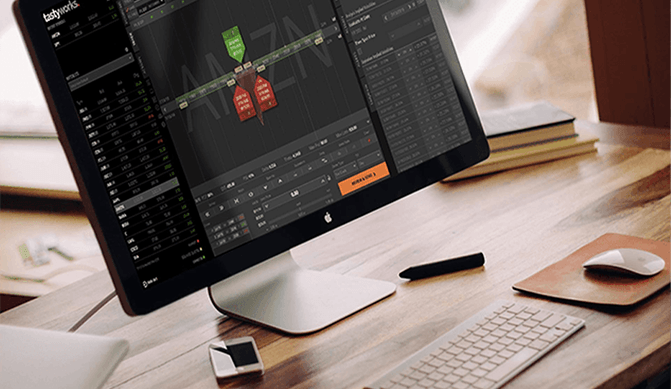 Tastyworks is a revolutionary brokerage company that makes "do it yourself" investing easier than ever. Their philosophy lies in the belief that individuals will feel more satisfaction and appreciation for their money and investments when they have the help they need, the right platform, and the ability to do it themselves.
More specifically, Tastyworks is an industry leader when it comes to options trading for retail traders. Their technology is built to help make options trading analysis easier with the ability to see "what if" scenarios and monitor the market.
Click here for an in-depth review of Tastyworks.
Who is Tastyworks for?
Tastyworks is perhaps the absolute best option available for the confident investor who wants to take charge of their own account with access to the most robust and user-friendly tools when needed. Those seeking to invest in options contracts, futures, or even on margin will do well with Tastyworks.
2. Fidelity
Account Minimum: $0
Fees: $0 commissions on stock trades, $0.65 per options contract
Investments: Stocks, Bonds, Mutual funds, ETFs, Options, Futures, Margin Accounts, & Annuities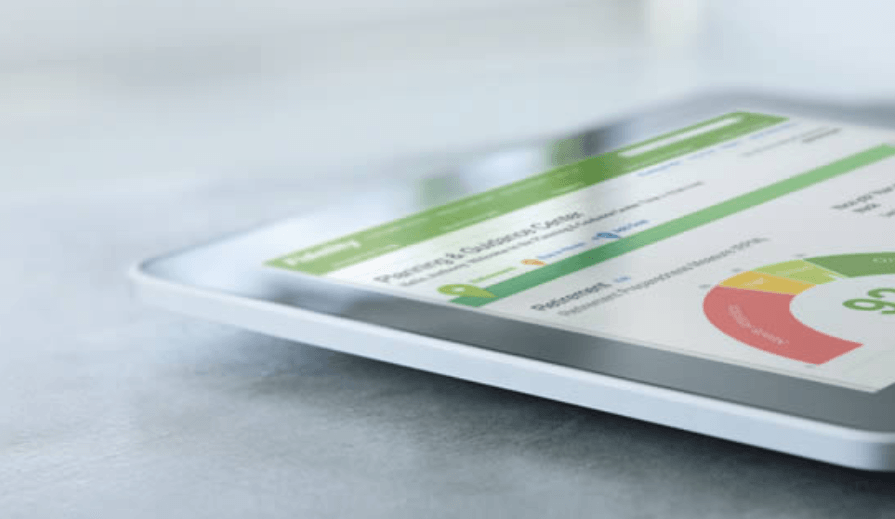 Fidelity has been around almost as long as the stock market has. They are a giant in the investment broker space, offering nearly every type of investment account, product, and investment vehicle available. They are a low-cost broker offering $0 commissions on stock trades and low fees for options and futures contracts. Their technology makes it easy for investors to manage investment performance with detailed charges, third party analytics reports, and in an in-depth trading platform.
Who is Fidelity for?
Fidelity is probably the most well-rounded option out there. Why? Because they offer almost everything in one place at competitive prices and world-class technology. Any individual looking for a central investment account with zero commissions on stock trades, great reports, and investment analysis, and access to additional products like credit cards and cash management accounts would be very pleased with Fidelity as a choice.
If this sounds like you, it comes down to personal preference when deciding between Fidelity or TD Ameritrade (discussed next), as both are very similar and cater to similar audiences.
3. TD Ameritrade
Account Minimum: $0
Fees: $0 commissions on stock trades, and $0 on per leg options trading in the US
Investments: Stocks, Options, Mutual Funds, ETFs, Futures, Forex, Margin Accounts, Cryptocurrency, Annuities, & Bonds.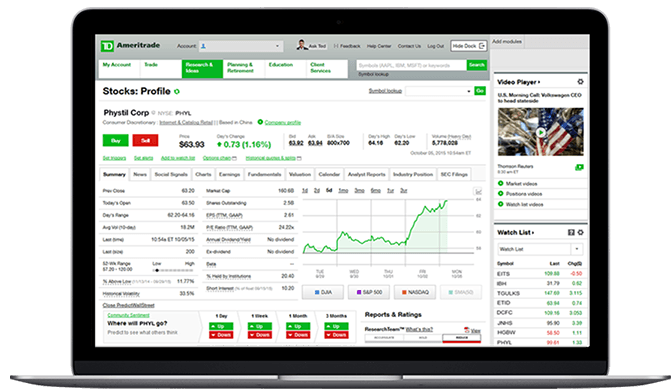 TD Ameritrade is most similar to Fidelity in terms of what their platform offers and how long they've been around. They are well known for their user-friendly technology and trading apps. A benefit most investors may love is the fact that they even allow you to invest in currencies and cryptocurrencies along with other general investments.
They offer anything from minor custodian accounts to lifetime annuities and retirement accounts. They have been named number one online broker by StockBrokers.com when it comes to their tools and resources, customer service, education, platform and community.
Who is TD Ameritrade for?
For the investor who plans to invest in stocks, bonds, and mutual funds but also wants to dabble in the foreign exchange market and even limited access to cryptocurrency investing, TD Ameritrade is hands down your best bet. They have no minimums and $0 trade commissions on nearly every investment type.
If this sounds like you, it comes down to personal preference when deciding between TD Ameritrade or Fidelity, as both are very similar and cater to similar audiences.
4. Robinhood
Account Minimum: $0
Fees: $0 trade commissions for stocks and options, $5 for access to premium investment reports and tools
Investments: Stocks, options, cryptocurrency, margin accounts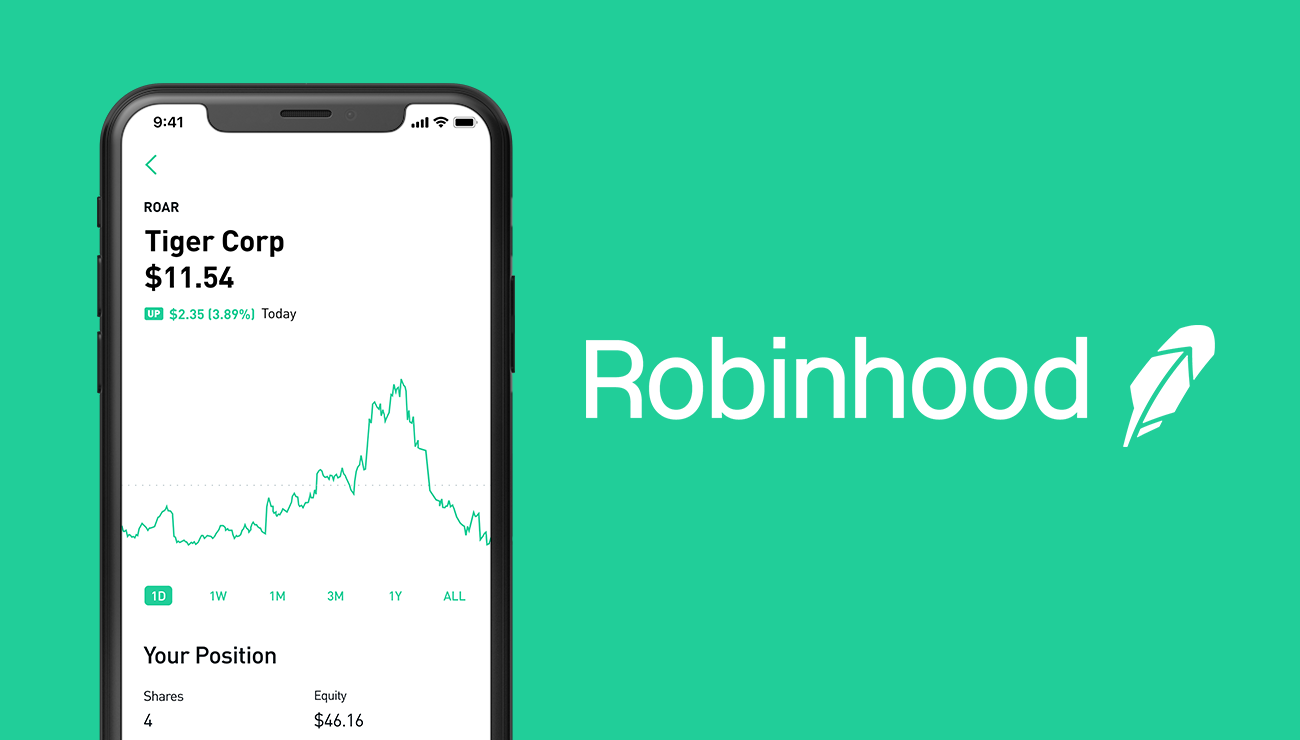 Robinhood is a modern investment app that was the first to offer commission-free trading. Shortly after, most large brokers had no option but to follow their lead or lose out on customers. Their app offers new users a free share of stock picked randomly, allowing you a chance for a free share of Amazon or Apple.
They offer the ability to trade dollar amounts rather than share amounts, allowing investors to invest in their favorite company with just $5, regardless of the share price. This is also referred to as "fractional shares investing." They provide access to simple reports, watchlists, and investment analysis. Their platform is as simple as it gets, in fact, some may say it's TOO SIMPLE (could be a good or bad thing).
Who is Robinhood for?
Robinhood is an investment app for the modern investor who likes free, convenient, simple, and the ability to trade options and cryptocurrency in one location. They are a great option for both new investors and sophisticated investors alike, with the ability to purchase fractional shares of stock rather than paying the price of a whole share, in which case Amazon may be thousands of dollars to invest just to start!
5. Ally Invest
Account Minimum: $0
Fees: $0 trade commissions for stocks, $0.50 per options contract
Investments: Stocks, bonds, mutual funds, ETFs, options, & Forex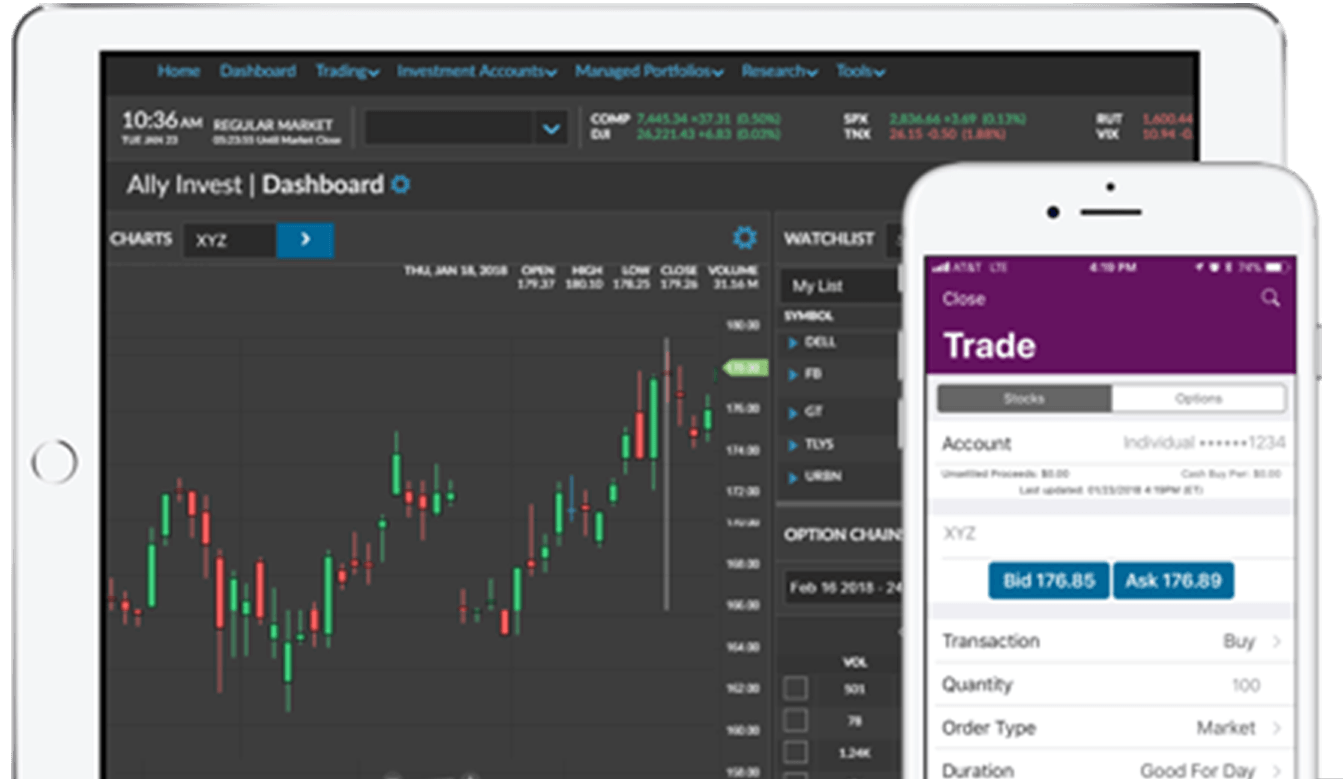 Ally Invest is an online-only bank that also offers investments. They originally started out providing banking products like checking and savings accounts, but all done online with no physical bank branches. They have since built out a pretty user-friendly investment platform that also caters to the online-only investment market. They are perhaps best known for their ease of use and their investment research tools.
Who is Ally Invest for?
People who wish to have an online-only option for investing, and even for banking, would do well to start out with Ally. Their investing platform offers all of the benefits of major brokers like Fidelity and TD Ameritrade, but without all the complexity. Ally Invest is a great option for semi-passive investors who like to invest in the stock market, but don't require all the complex analysis while still having access to great research tools.
6. Charles Schwab
Account Minimum: $0
Fees: $0 trade fees for stocks, and $0.65 per options contract
Investments: Stocks, bonds, mutual funds, options, futures, margin accounts, & annuities
Another contender for the tenured investment brokers is Charles Schwab. The founder, Charles Schwab, is also well known for his investment expertise and reputation as a successful trader. Their platform has been around for the ages and caters to investors of all types. They offer a wide range of investment options with zero trading fees and low-cost options trading. Charles Schwab may be most well known for their reputation of being a very well trusted investment broker that you can count on for service, transparency, and user-friendly investment accounts.
Who is Charles Schwab for?
Charles Schwab is a great option for investors who wish to have a variety of investment options with no commissions for trades and prefer to have the peace of mind that they are investing with a well-respected company.
How to Pick the Best Online Investment Broker for You
The differences between most investment brokers are minimal, each offering different bells and whistles catering to particular audiences. The best thing to do is ask yourself where you see yourself investing in 5-10 years, and what your investment plans are for this time frame. Does your choice of online investment broker meet all the expectations for your future investing plans?
A breakdown of our six top picks for online investment brokers:
Tastyworks: A top pick for options trading, futures contracts, and zero-cost trading commissions.
Fidelity: A well-rounded investment platform with nearly every investment vehicle available with second to none investing reports and tools.
TD Ameritrade: A top pick for those who wish to have every investment available at their hands, including Forex and Cryptocurrency with top of the line day trading technology.
Robinhood: Great for the modern investor interested in convenience, free, options contracts, and cryptocurrency.
Ally Invest: The investment platform that offers all the basic tools and resources, but without all the complexity.
Charles Schwab: A platform catered to modern investors who wish to have a well reputable investment partner and access to free trades and world-class trading tools.